What is Midwest Model United Nations?
Midwest Model United Nations (MMUN) is a non-profit organization that hosts a collegiate-level, immersive, educational conference each year that simulates the work of the United Nations. We are an all-volunteer organization dedicated to delivering a "venture in practical education."
MMUN offers students and faculty a unique, challenging, and life-changing experience. Our simulation is designed to help students gain a practical understanding of international issues from a perspective outside of the classroom, broadening their awareness of international relations. For more information about what model UN is and how the MMUN conference operates, visit our conference information page.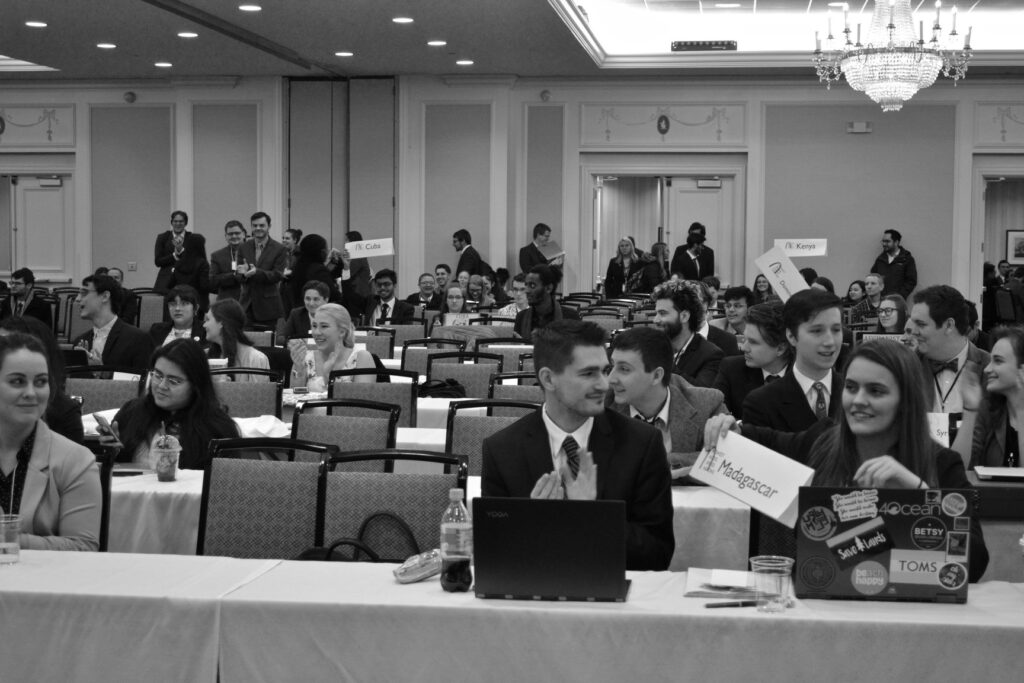 We are proud to offer an affordable Model UN conference that provides thoroughly researched background materials, well-trained and welcoming staff prepared to facilitate the will of our delegates, and a unique simulation involving committee sessions, plenary sessions, and events simulated UN bodies. We prioritize providing simulations that will challenge both new and experienced delegates year after year.
We have come a long way since our first conference: we have witnessed advancements in technology and information accessibility and have become familiar with the need for hands-on learning that our delegates have shown us over the years. Whether our evolution comes through streamlining our online registration process, becoming more sustainable in our practices, uploading our resolutions in real-time for delegates to see online before voting procedure, or adding new "event simulations" to our plenary sessions, our conference will continue to grow. We welcome you to attend and grow with us.
---
Learn More
Want to know more about model UN in general or our conference? Check out our conference information page.
Registration
Interested in attending the next MMUN or want to know what countries are available? Head over to our registration page.
Questions?
Do you have questions about model UN or our conference? Feel free to reach out to us and we'll get back to you quickly.
---